Since 1974, Captive Fastener Corporation has been solely dedicated to manufacturing the finest quality self-clinching fasteners for a variety of industrial and electronics equipment produced by major OEMs.
All Captive self-clinching fasteners conform to industry standards, which enables them to be fed through all standard automatic insertion equipment, and provide a substitute for form, fit and function.
CHTS Studs for Thin Stainless Steel
| | | | |
| --- | --- | --- | --- |
| Series | Cross. Ref* | Material | Finish |
| | | 400 SeriesStainless Steel | |
Captive Series CHTS Studs provide a strong, flush-head assembly in stainless steel sheet material as thin as .040 in. (1.0 mm). The heat-treated 400 Series stainless steel studs may be installed with a standard shop press and provide high torque-out and pushout performance in materials with a Rockwell Hardness of B-92 or less.
Self-clinching nuts provide a strong female thread in panels that are too thin to be conventionally tapped. They are installed by placing them in properly pre-cut holes in sheets and applying enough force for metal to cold flow into an undercut.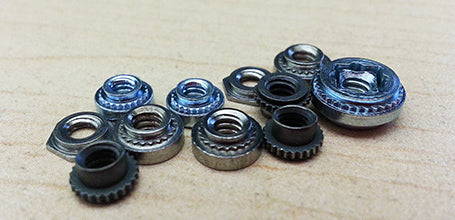 Types of Self-Clinching Nuts Available at TCH:
Types of Self-Clinching Studs Available at TCH:
Standoffs are used in applications that require mounting, spacing or stacking panels, boards or components. These standoffs are pressed into pre-cut round holes and pressed with parallel squeezing force.They can mount permanently to sheets as thin as 0.025"/0.63mm.
Types of Self-Clinching Standoffs Available at TCH:
Self-clinching pins are ideal for compact electronic assemblies. These pins are easily installed by squeezing them into a properly sized hole in a sheet. With applied force, the metal will cold flow and clinch them permanently into place. They can be installed into a variety of hardness (HRB 92/ HB195).
Types of Self-Clinching Pins and other hardware Available at TCH: